The Ski Resort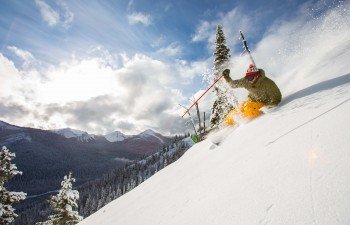 Manning Park´s 57 hectares of ski and snowboard terrain are located in Gibson Pass Valley, British Columbia. This resort is renowned for its variety of winter sports, ranging from classic cross country to snowshoeing, skate ski trails and polar coaster tubing. Offering over 60 kilometres of fascinating machine groomed cross country trails, Manning Park is a paradise for cross coutry skiiers, considering that 160 kilometres of backcountry trails are for free! Manning Park is famous for its dry snow spread across 24 marked ski and snowboard trails groomed to perfection with a great view from the top elevation of 1790 metres made accessible by 4 lifts that take you to your destination quickly and safely. The "Ski Village" in Manning Park features various services such as a cafeteria, ski rental and service, daycare and friendly, family oriented staff. Since the 1950´s Manning Park has been a hotspot for wintersport enthusiasts and this claim is thoroughly justified.

Just 10km away is Manning Park Resort. Manning Park Resort offers a variety of accommodation from lodge rooms to cabins, a swimming pool with hot tubs and sauna/steam room, a restaurant, a country store, and also a welcoming pub, called "The Bear´s Den" where you can relax after a day on the slopes or trails. Manning Park Resort offers a free shuttle bus service up to the ski hill so once there you don´t have to worry about winter driving. Visit Manning Park Resort to see what "Super Service with a Smile" is all about!

Interesting facts
The vertical drop from summit to base is 1417 ft. The average difference in altitude between base and summit of Ski Resorts in Canada is 1191 ft. The ski resort takes you to an elevation of 5869 ft.
The day pass at Manning Park Resort is CAD79 making it one of the 10 cheapest ski Resorts in British Columbia.
Average snow depth during the season is 72 " at summit elevation and 61 " at base elevation. Snow coverage is usually best during March, offering an average snow depth of 85 " at summit elevation and 69 " at the base.
Snow Safety & Snowmaking
Average snow depth of the last years (Summit)
(in ")
Travel Deals & Tips
Advertisement
On Mountain Dining
The Day Lodge at Manning Park Resort is located at the alpine ski hill in the heart of all the winter action. Take a break and recharge at the Day Lodge during regular ski hill hours from 8am to 4:30pm.

You will find everything you need at the lodge, including a full-service cafeteria with an enjoyable food selection, warm drinks, cold beer and healthy snacks.

The Day Lodge facilities include storage areas and restrooms. Operation coincides with when the ski hill is open.
Videos
Family good times at Manning Park Resort
Manning Park Resort - A True BC Winter Experience
Activities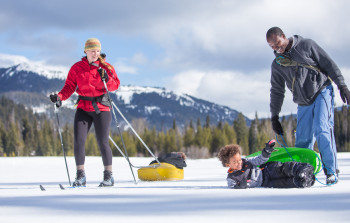 Welcome to Manning Park Resort — your family's four-season destination located in the stunning E.C. Manning Provincial Park in the heart of the Cascade Mountains.
An easy drive from Vancouver, the Lower Mainland and the Okanagan, Manning Park Resort offers Fresh Air Experiences any time of year. The area's pristine lakes, alpine meadows and rugged forested mountains combine to make this one of the most unique and spectacular regions in British Columbia.
Along with its ecological attractions, Manning Park is a recreational paradise with Alpine and Nordic skiing in the winter; snowshoeing and exploring in the spring; hiking, camping, fishing and swimming in the summer; and boating and sightseeing in the fall.
An affordable and convenient choice for family gatherings, corporate retreats and wedding celebrations, Manning Park Resort is the perfect place to come together.
Families have been making memories at Manning Park Resort for generations, taking advantage of this wilderness playground for winter play, summer adventures, and year round fun––just the way E.C. Manning intended it.
Après-Ski and Nightlife
The Bear's Den Pub at Manning Park Resort is designed with you – our guest – in mind. A great place to unwind from an outdoor adventure, it's a casual, fun pub where you can enjoy drink specials and tasty food. With local art and funky décor, you'll feel right at home at the Bear's Den.
Catch the game on one of our two 70″ TV's, play pool with friends, and hear live music at the Bear's Den Pub. It's the perfect end to a day in outdoor paradise!
Number of Bars and Pubs:
1
Dining and Restaurants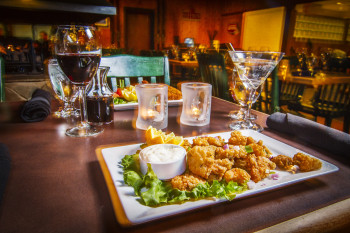 The Pinewoods Dining Room is Manning Park dining at its best. With a picturesque mountain backdrop, it's the ideal place to come together to enjoy a family gathering or an intimate meal. An extensive menu designed by our executive chef ensures that everyone in your party will be delighted with their dining experience, whether it is breakfast, lunch or dinner. Enjoy Manning Park favourites and classic dishes in a welcoming setting.
With daily specials, an inventive wine list, and knowledgeable and courteous staff, Pinewoods Dining Room is a delightful addition to your Manning Park dining experience.
Infrastructure & Rental
Skischools
Number of Snowboard Schools:
1
Getting here
Manning Park Resort is easily accessible from both the Lower Mainland and the Okanagan. Located on the Hope-Princeton Highway (Hwy. 3), Manning Park Resort is in the heart of the Cascade Mountain Range in beautiful southern British Columbia. Getting to Manning Park is easy by car, air or bus.