Coronavirus / Covid-19 Measures
Current protective measures and security advice at Malbun Triesenberg:
Masks mandatory in all lifts and ski buses
Visitor management in waiting areas (keep your distance)
Masks mandatory at restaurants, ski rental and shops
Daily disinfection measures
>> Read more about the Covid-19 guidelines on
The Ski Resort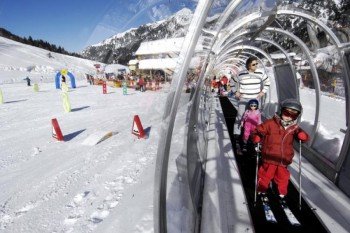 When the first snow flakes fall, the high-lying valleys in the Principality of Liechtenstein are transformed into a winter paradise. At an altitude of 1.600 meters (5.250 ft) above sea level, the leisurely winter sports' resort Malbun invites families to enjoy exuberant activities in the snow at an all-inclusive price. Its protected position surrounded by ski slopes and artificial snow canons makes the excellent holiday resort - which is awarded with the Swiss seal of quality "Families Welcome" - one of the best areas for guaranteed snow in the northern alps. Due to its clear overall view it is an ideal winter stamping ground for families. The wide range of easy to challenging piste with a length of over 23 kilometers go up to an altitude of 2.000 meters (6.500 ft) above sea level.
Interesting facts
The high point of the ski resort is located at an elevation of 6562 ft.
Average snow depth during the season is 38 " at summit elevation and 25 " at base elevation. Snow coverage is usually best during March, offering an average snow depth of 39 " at summit elevation and 26 " at the base.
Malbun Triesenberg features 61 sunny days on average per season. January is the sunniest month with an average of 17 sunny days.
Snow Safety & Snowmaking
Snowphone
+423 (0)265 40 00
Average snow depth of the last years (Summit)
(in ")