The Ski Resort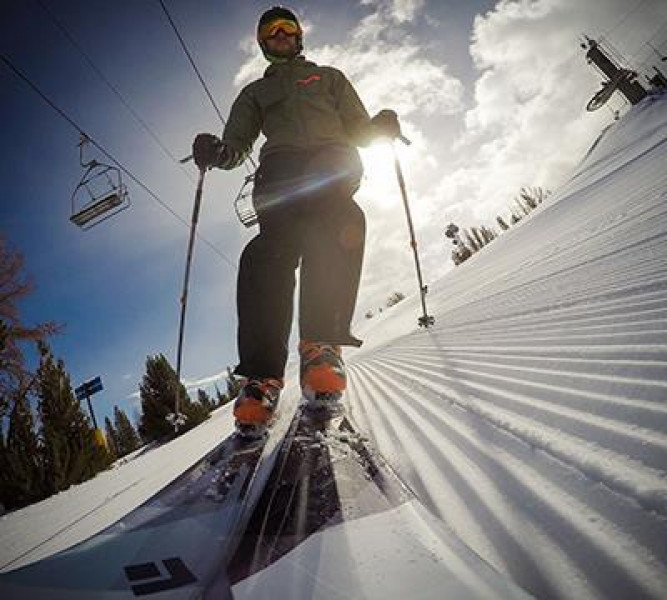 June Mountain has so much to offer. Whether beginner or expert, skier or snowboarder, child or adult - everyone will love this ski area!
There are 41 spectacular trails available for all ability levels, which are served by 7 lifts with a capacity of 10,000 skiers per hour. Leave long lift lines behind and dive into a great winter wonderland! The Sports School offers lessons for children and adults of all ability. Whether skiing and snowboarding is totally new to you or you just want to brush up on your skills, this is the right spot to be. Certified instructors will teach you everthing you need to know always having your fun in mind.
Interesting facts
Elevated between 7546 ft and 10135 ft, the Ski Resort is among the 3 highest elevated Ski Resorts in California. The vertical drop from summit to base is 2589 ft. The average difference in altitude between base and summit of Ski Resorts in the USA is 1204 ft. Most runs are therefore relatively long.
Average snow depth during the season is 118 " at summit elevation and 26 " at base elevation. Snow coverage is usually best during March, offering an average snow depth of 163 " at summit elevation and 38 " at the base. Therefore June Mountain is among the 10 ski Resorts with best snow conditions in California.
Snow Safety & Snowmaking
HIGH ALTITUDE TIPS
The base of June Mountain is approximately 7,500 feet above sea level, and the elevation at the Chalet is 8,695 feet. Visitors may experience some minor side effects due to June's high elevation.
LIGHTING AND THUNDERSTORMS
Variable weather conditions exist in the Sierras; thunderstorms, wind events and even snowstorms are common in these mountains. Seek shelter when you see a storm developing. Keep off ridge tops and stay clear of lift houses, lift towers, power lines, open ski runs, the tallest tree in the vicinity, fences and signposts.
WILDLIFE
June Mountain is home to a diverse wildlife population in the summer. You can see Red Tail Hawks, Osprey's, Bald Eagles, Mule Deer, Coyotes, and Black Bears, Ground Squirrels and Chipmuncks. Please keep our wildlife wild and do not feed them. Do not leave food in your car, bears will break in and eat it!
DRONE POLICY
In the interest of the health, welfare and safety for our guests, employees, and property, June Mountain strictly prohibits the unauthorized use of drones and all other small unmanned aerial systems (UAS) on its property. This prohibition includes but is not limited to, Aircraft launched off-site that travels anywhere on or above Resort property.
MOUNTAIN ACCESS
Vehicle access to June Mountain is restricted to company vehicles and those having legitimate business on the mountain only.

To gain access to June Mountain you must submit a request form to Mammoth Resorts Mountain Operations.
Average snow depth of the last years (Summit)
(in ")
Travel Deals & Tips
Advertisement
On Mountain Dining
JUNE MEADOWS CHALET
Located at the top of Chair J1, the cozy Chalet offers cafeteria-style dining with indoor and outdoor seating. Step out of your bindings to enjoy the sundeck and outdoor grill while relaxing in a real alpine setting. Try a "Mountain Muffin", the daily special or salad-- right at the middle of the mountain. Open at 8am daily serving breakfast and lunch. The Chalet also houses lockers, rentals, repairs, sport shop and lessons.
WORLD FAMOUS ANTLER BAR
Enjoy a cocktail while looking over the best view in the Eastern Sierra; maybe the best view in the world! At the World Famous Antler Bar in June Meadows Chalet you'll always have a great time while soaking up the legendary June Mountain vibe.
STEW POT SLIM'S
Located near the base of Chair J7, Stew Pot Slim's is a great place to relax in the sun and enjoy a bowl of chili or a deli-style lunch while watching skiers and snowboarders rip down the chutes of J7. Stew Pot's is open daily for lunch service and features a simple menu with sandwiches, chili, beer and wine.
Video
Exploring June Mountain Resort in June Lake, California
Activities
BUCKY'S BONFIRE - EVERY SATURDAY
Bucky's Bonfire is an exciting family-friendly event at the Chalet of June Mountain. Join Bucky & Friends to celebrate the winter season at June every Saturday starting at 2pm!
SIERRA MOUNTAIN GUIDES
Have you ever wanted to explore June Mountain's Backcountry? Well now you can with Sierra Mountain Guides. Just a short hike away from the summit of June Mountain, Sierra Mountain Guides can take to places like the Gnome Zone, Upper Glass Creek, San Joaquin Ridge, the Negatives, Fern Creek, Carson Peak, Devil's Slide, Four Seasons, and much more. Experience some of the best backcountry skiing the West has to offer!
Are you Ready?
If you can ski or ride at June Mountain all day then you are ready to try the backcountry. Tours are available for intermediate to advanced skiers and snowboarders. Each tour is custom made for you and your group.
Included:
Avalanche Safety Equipment, as needed
Lift tickets at June Mountain
Lunch
Not Included:
Rental ski touring equipment (Available at the Rental Shop)
Personal gear
Lodging or transportation in the June Mountain area
To book your tour call Sierra Mountain Guides at 760.648.1122
Après-Ski and Nightlife
JUNE LAKE BREWING
A recent addition to the community in 2014. June Lake Brewing has some super awesome beer, if you ask us anyway. Open late morning into the evening with up to 8 or more beers on tap.
TIGER BAR
Established in 1932, locals will tell you that the Tiger Bar has one of the oldest liquor licenses in California. Serving bar style food with Mexican options as well. Open for breakfast, lunch & dinner.
Dining and Restaurants
OHANAS 395
Looking for a little fusion confusion? This bright orange food truck, located right outside of June Lake Brewing, serves Hawaiian inspired eats with love. Hours vary from summer to winter from midday to mid-evening.
GORDOS MEXICAN RESTAURANT
Once just a coffee shop known as Trout Town Joe, Gordos Mexican Restaurant serves Mexican food from early in the morning until early evening. Don't worry, you can still get a cup of hot joe too.
EAGLE'S LANDING RESTAURANT
Located at the Double Eagle Resort and Spa, the Eagle's Landing Restaurant serves breakfast, lunch, and dinner on a contemporary style menu.
TIGER BAR
Established in 1932, locals will tell you that the Tiger Bar has one of the oldest liquor licenses in California. Serving bar style food with Mexican options as well. Open for breakfast, lunch & dinner.
CARSON PEAK INN
The ribs are darn good, but they also serve chicken, steak, and seafood in multi course style. Dinner here will fill any appetite.
SIERRA INN RESTAURANT
Serving Pizza, steaks, salad bar, and full bar. Open for dinner on select nights.
Infrastructure & Rental
SPORTS SCHOOL
KIDS GROUP LESSONS (Age Groups 3–4 | 5–12) Get your kids started off right with lesson groups where kids are matched up based on age and skill level, they are guaranteed to learn sound skiing or snowboarding fundamentals, confidence and mountain IQ through our specialized teaching techniques – all while having fun.

ADULT GROUP LESSONS (Ages 13+) Start from the beginning with our all day beginners lesson or master a skill you've been practicing in a three hour lesson.

PRIVATE LESSONS Line up your own personal pro for the day and make it an awesome one. Bring up to 4 friends for no additional cost.
RENTAL EQUIPMENT
Whether it's your first day on the hill or you're a seasoned rider who wants to demo the latest model before buying, our gear experts will hook you up with everything you need. Reserve your equipment 2 days or more in advance, and we'll have your gear ready and waiting for you in a locker.

Cali4nia Passholders save 10% on multi-day rentals (non-holiday) – just show your pass when you pick up your gear.
SAVE 20% ON MULTI-DAY RENTALS BY RESERVING YOUR GEAR 7+ DAYS AHEAD (NON-HOLIDAY)
Make your reservation online up to 2 days prior to your trip. For next day reservations, call 888.JUNEMTN
Skischools
Number of Snowboard Schools:
1
Getting here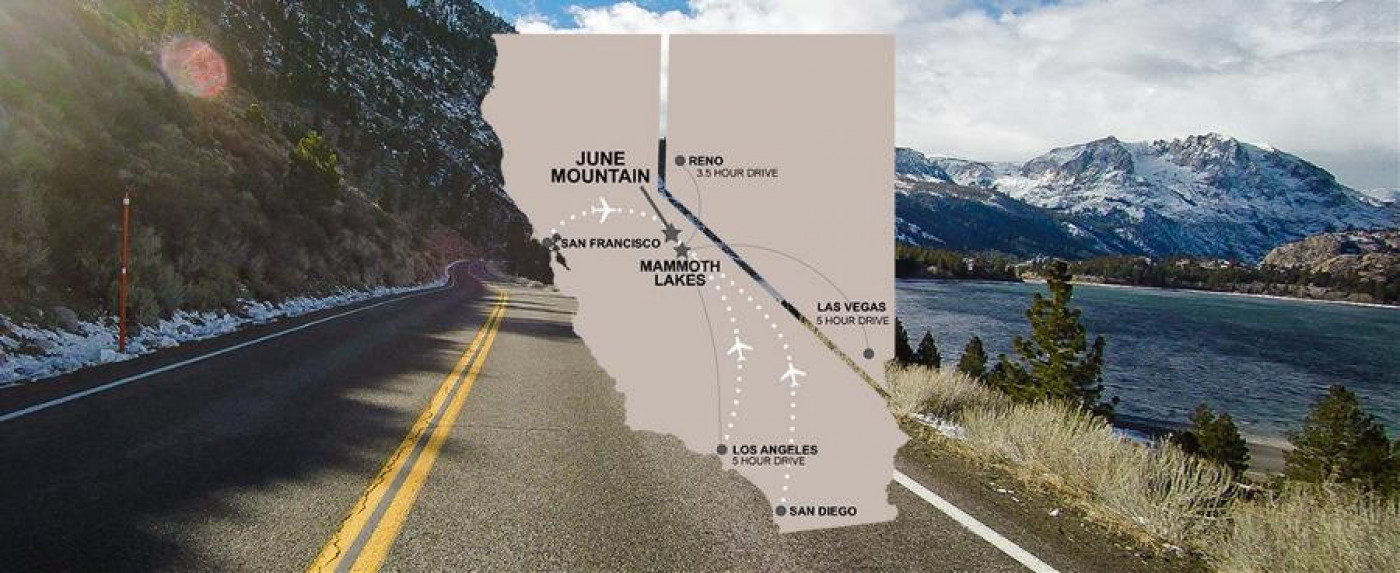 The drive to June Lakes offers a spectacular tour of the Eastern Sierra. From the moment you hit the highway, you travel through one of the most beautiful portions of California.
Fly to your favorite mountain destination. Alaska Airlines and United fly to the Yosemite-Mammoth Airport (MMH) from LAX, SFO, and SAN.
Thanks to Eastern Sierra Transit Authority you can get to June from Mammoth and vice versa! Shuttle costs are $7.50 one-way or $13 round trip.
Visitors can travel to the June Lake area by taxi and rentals once they have arrived at the Mammoth/ Tahoe Airport.
Mammoth Tax Service
Mammoth Lakes Cab Service
Mammoth All Weather Shuttle
Enterprise Rent-A-Car (Locations at MMH, LAX, and Reno ariports: 800.267.7331)