Coronavirus / Covid-19 Measures
Current protective measures and security advice at Innsbruck Nordkettenbahn:
Masks mandatory in all lifts and ski buses
Visitor management in waiting areas (keep your distance)
Restrictions on lift capacity
Lift tickets available online
Masks mandatory at restaurants, ski rental and shops
No Après Ski
Corona test sites in the village
Daily disinfection measures
>> Read more about the Covid-19 guidelines on
The Ski Resort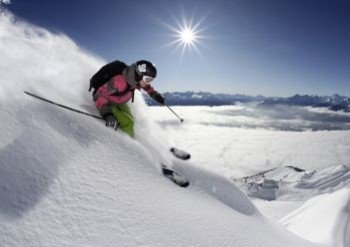 In no other place in the world is the dividing line between an urban area and rugged mountain terrain so thin. The Nordkettenbahnen will now transport visitors directly from the city center of Innsbruck to high mountain terrain in just twenty minutes.

A visit of the Nordkette offers a unique panorama. Once you get to the 860-meter high mountain station of the cable car Hungerburg you can enjoy a new breathtaking view of the city of Innsbruck. The panorama is cloud-free 300 days a year.

With the cable car Seegrube you can reach the 1905-meter high Seegrube. Once you get there you can enjoy a great panorama of the middle Inn Valley, the Stubai and Zillertal Valley Alps and of the Wipptal Valley until the near Italian border.

In order to reach the highest view point, you must go further, to the 2256-meter high Hafelekar. The high populated Inn Valley on one side contrasts with the genuine wilderness of the Karwendel Alpine Park on the other side. The visual opposition between city and mountains makes the impressions collected unforgettable.
Steep - steeper – Karrinne
The Hafelekarrinne is one of the steepest ski runs in Europe. With a gradient of 70% this run is reserved for real experts. On powder snow days some locals are more likely to be found at Nordkette than in their office. The run for extreme adrenalin.
CAUTION: For proficient and experienced skiers and snowboarders only! You are in high mountain territory. Suitable equipment is essential. Find out about the avalanche situation in the skiing region before heading off-piste.
Kids-Arena at the Seegrube
Magic carpet, snow hill and practice slopes including child care service make the Nordkette a unique experience for children and families.
Interesting facts
The vertical drop from summit to base is 4593 ft. The average difference in altitude between base and summit of Ski Resorts in Austria is 2359 ft. Most runs are therefore relatively long. The ski resort takes you to an elevation of 7415 ft.
Average snow depth during the season is 78 " at summit elevation and 3 " at base elevation. Snow coverage is usually best during February, offering an average snow depth of 85 " at summit elevation and 5 " at the base.
Innsbruck Nordkettenbahn features 63 sunny days on average per season. The average for all ski Resorts in Austria is 56 sunny days. February is the sunniest month with an average of 20 sunny days.
Snow Safety & Snowmaking
Snowphone
+43 (0)512 293344 15
Average snow depth of the last years (Summit)
(in ")