Interesting facts
Season starts on Dec 3 and ends on Apr 2 (120 days). Average season duration in the USA is 111 days.
During the season (from Dec 3 till Apr 2) the average snow depth at Gunstock Ski Area is 0 ".
Gunstock Ski Area features 66 sunny days on average per season. The average for all ski Resorts in the USA is 51 sunny days. March is the sunniest month with an average of 19 sunny days. This makes the ski resort one of the 3 sunniest in New Hampshire.
The Ski Resort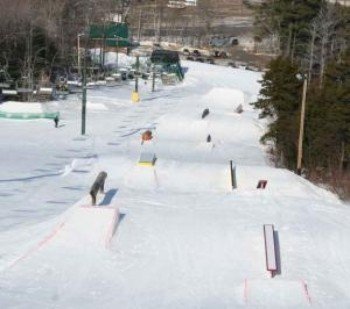 Gunstock Ski Area covers 91 hectares of various terrain. 55 trails are waiting to be discovered. Thus, it is a ski area for everyone no matter if beginner or expert. 21 of them are open for night skiing so the fun can continue after sunset.
The Ski School offers a variety of different programs for children and adults as well as for disabled individuals. Certainly, you´ll find a program that meets your needs. Besides skiing and snowboarding you can take lessons in Telemark and Cross-Country Skiing. Ginstock Ski Area offers a great Cross-Country trail systems that totals 50 km. Just glide through the beautiful winter landscape and enjoy this peaceful spot. The trails are also open for snowshoeing.
Furthermore, there is a snow tubing park available. If you like sledding you will love snow tubing! It´s a real fun activity for the whole family. Just hop on your tube and slide down the chutes. Enjoy the thrill of speed and let the lift take you back up the hill. In addition, there is a terrain park available. It offers a variety of features including rails, jumps and boxes. The staff of Hunstock is always eager to improve the park. Check it out and learn some new tricks!