Coronavirus / Covid-19 Measures
Current protective measures and security advice at Feuerkogel:
Masks mandatory in all lifts and ski buses
Visitor management in waiting areas (keep your distance)
Restrictions on lift capacity
Lift tickets available online
Masks mandatory at restaurants, ski rental and shops
No Après Ski
Daily disinfection measures
>> Read more about the Covid-19 guidelines on
The Ski Resort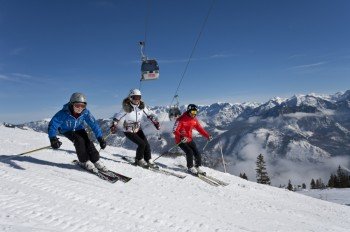 The Feuerkogel, Upper Austria's most sun-blessed site, with its family-friendly pistes, fantastic all-round panorama view of Dachstein and of the lakes, cosy Alpine lodges and many sporting opportunities, invites you to experience an unforgettable snow adventure in the heart of the Salzkammergut! Easy to get to from Ebensee am Traunsee via the Feuerkogel cable car, at 1600 metres you head into the middle of this adventure-filled mountain village.

For winter athletes who like to relax and take things easy, the little ski circus on the Feuerkogel high plateau provides very well prepared pistes and lots of routes for beginners and families. More ambitious snow fanatics will find a challenge to suit them in the six kilometre long unprepared ski run into the valley. Tourers and snow-shoe hikers hold the wonderful plateau in high regard as a starting point for tours of every difficulty level, while many boarders prefer to 'unnerve' themselves on the un-tracked slopes down into the valley.
Interesting facts
Offering 6 miles of slopes and terrain, Feuerkogel is among the 10 largest Ski Resorts in Upper Austria.
Feuerkogel is among the 10 best rated Ski Resorts in Upper Austria.
Elevated between 1453 ft and 5331 ft, the Ski Resort is among the 5 highest elevated Ski Resorts in Upper Austria. The vertical drop from summit to base is 3878 ft. The average difference in altitude between base and summit of Ski Resorts in Austria is 2359 ft. Most runs are therefore relatively long.
Season starts on Dec 24 and ends on Apr 5 (102 days). Average season duration in Austria is 96 days.
Average snow depth during the season (Dec 24 to Apr 5) is 61 " at summit elevation and 44 " at base elevation. Snow coverage is usually best during February, offering an average snow depth of 73 " at summit elevation and 57 " at the base. Therefore Feuerkogel is among the 3 ski Resorts with best snow conditions in Upper Austria.
Feuerkogel features 48 sunny days on average per season. The average for all ski Resorts in Austria is 55 sunny days. January is the sunniest month with an average of 18 sunny days.
Snow Safety & Snowmaking
Average snow depth of the last years (Summit)
(in ")
Must-Ski Runs
Longest Runs
Gsoll Panorama Nr. 1, 1a, 1b, 1c, 1e, 1f