The Ski Resort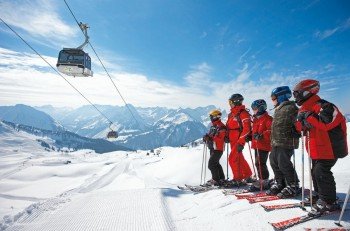 As the ski resort is mostly designated for beginners and intermediate skiers with its 13 kilometers (8 miles) blues and 18 kilometers (11 miles) of reds, experts won´t miss out. The 9 kilometers (5,6 miles) of black runs bring enough challenges to make the best skiers think twice.

Most of the easier ski trails at Diedamskopf start at the top of the mountain. From here, take the blue trails No. 6 and 8 down. You can also get down by skiing No. 7.

Those looking for intermediate runs it´s best to try the red trail No. 22. As you ski down to the valley station, you will pass the restaurant ´Wedelstube´. Don´t forget to ski slope No.21 if you like red runs and your target is the valley. Don´t miss No. 9 at the top of Diedamskopf as well as No. 17 with its starting point Breitenalpe.

The toughest ski terrain is located at the top of the mountain. No. 1 is one of the challenging runs and gives you access to the restaurant ´Wedelstube´. No. 2 is an other ´Experts Only´ trail and brings you to the terrain park ´Pleasure Diedamspark´.

Snowboarder and Freestyler pretty much get together at ´Pleasure Diedamspark´, the biggest terrain park in the region. Beginners and experts will be in their element and can go crazy with kickers, boxes, rails and countless features that can only be found here. Head down red slope No. 3 or the black slope No. 2 to find the terrain park.

Grab ski tow Grunholz in Au to go night skiing. Nights and hours of operating are Wednesday and Friday from 7 pm to 10 pm. You can fortify yourself with ´Glühwein´ (mulled wine) or ´Jagertee´ (tea with alcohol) at ´Lifthüsle´.

Kids are in the right place at ´Didi´s Kids-Aventureland´. Here you find professional childcare. This way you can get to know the ski resort without feeling guilty. For children younger than three years you find a parent-child area, where kiddies get to play under parent´s supervision. Of course, physical-well being for youngsters is also provided. At lunchtime there are tasty children´s dishes on Didi´s menu to choose from. Every Wednesday, from 1 pm to 3 pm, there is a children´s program, that includes doing crafts, drawing or making music together.
Snow Safety & Snowmaking
Snowphone
+43 (0)5515 4110 99
Average snow depth of the last years (Summit)
(in ")
Travel Deals & Tips
Advertisement
On Mountain Dining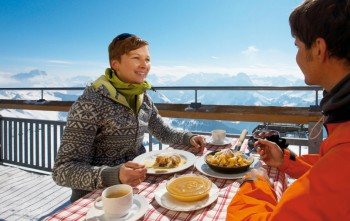 The panorama restaurant at gondola top station will leave you tempted to stop. In addition to the traditional mountain fare you choose from daily specials on the menu and it also provides guests a sunny terrace.

Apres-ski fans meet in the ´Sternbar´. Here you can party all night long and it is a fun spot for drinks.
The smallest visitors and ski class groups love to take a break at ´Skihaserl´, they offer child-oriented meals that are guaranteed to suit the taste of the youngsters.

The ´Wedelstube´ is as cozy as it comes with their sun deck and comfortable surrounding. Here you´ll get the best hearty regional dishes and fine specialties at the same time. You only need a quick snack? The restaurant has its own kiosk in case a quick hunger creeps on you or you just need a cold beverage to refresh.

Traditional cheese dishes, local specialties and a daily changing menu can be found at the charming ´Käsker Breitenalpe´. The sun deck provides a unique view over the surrounding nature and mountain world.

For the perfect ending ski day you want some apres-ski hits, Glühwein or Jagertee? The ´Ski-Inn´ awaits you!
Must-Ski Runs
The ski resort´s longest slope is the 10 km (6 miles) run that brings you back to the valley Unterdiedams. Try this run with an altitude difference of 1240 meters (4000 ft), but be aware you will probably get some leg burn. Take it from the top station Diedamskopf and ski to the gondola valley station. Avoid the run by skiing the ski route 21.

Mid-mountain restaurant Käsker is situated beneath the mogul slope (No. 3) the so-called ´Schwarze Schneid´ (means you need some courage to take this slope).
The trail where you can measure your speed, situated at the right of the top station ´Breitenalpe´ and a public race slope, left from the station, are two more highlights of the ski resort.
Activities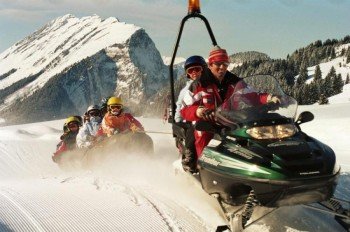 All toboggan enthusiasts will get their money´s worth at Grundholz lift. The ski tow brings you right up to the starting point in a special toboggan and then it goes swiftly down on the left trail.

If you prefer to take a walk through winter wonderland instead of speeding through it, 2 kilometers (1,2 miles) of winter hiking trails await you. It just takes 15 minutes to reach the top of Diedamskopf and you will find yourself at 2000 meter (6560 ft) above sea level.
Après-Ski and Nightlife
Number of Bars and Pubs:
2
Dining and Restaurants
For fans of gourmet dining it is highly recommended to try the restaurant at Hotel Adler in Au. The house specialties are game and fish dishes, however, vegetarian delicacies find their way onto plates too.

The restaurant of Hotel Krone in Au offers a daily changing dinner 5-course-gourmet-menu, the kitchen received countless awards for their cuisine. At lunch time the menu features regional and international dishes.

Friends of the legendary french cuisine should plan a visit to the Hotel Tannahof restaurant. They only use farm-fresh ingredients. For dessert you should definitely try their famous Crêpe.

Foodies will enjoy ´Gasthof Adler´ in Schoppernau. Next to the first-class cuisine it attracts with its own bar including exquisite alcohol, Whiskey and an exclusive selection of cigars.
 
Infrastructure & Rental
Skischools
Number of Snowboard Schools:
1
Getting here
By car:

Coming from Germany one possibility is to take highway Lindau and pass the ´Pfänder´ tunnel until you get to the exit Dornbirn Nord. Pass Bregenzerwald and continue to Schoppernau.

If you take highway Kempten you will navigate through Immenstadt, Oberstaufen, the border crossing point Springen-Aach and Egg to Schoppernau.

Coming from Garmisch-Partenkirchen or Füssen it goes through Reutte (Tyrol) to Leachtal and further pass Warth to reach Schoppernau.

Coming from Switzerland take highway St. Gallen to St. Margrethen/Au, pass Lustenau, Dornbirn and the Bregenzerwald to Schoppernau.

Coming from Austria take the Inntal highway towards Innsbruck and pass St. Anton, the Arlbergpass, Lech and Warth to Schoppernau.


Public transportation:

Coming by train, get off at train station Dornbirn or Bregenz. There are hourly buses that bring you to Schoppernau.