The Ski Resort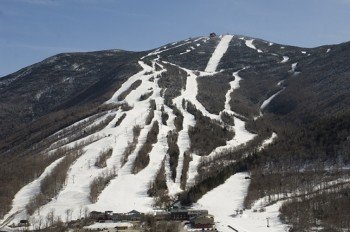 Cannon Mountain is the highest ski area summit in New Hampshire! Enjoy 105 skiable hectares. Due to a snowmaking system that covers 98% of the are you never have to worry about the snow. Great snow, great grooming - this is Cannon Mountain! There are 72 trails and glades served by 9 lifts that have a capacity of 11,000 skiers per hour.
Tuckerbrook Area is for beginners, families and those who like it slow. Take your own time without being bothered by others and get some confidence on your ski or your snowboard. A special delicacy is the great view over northern New Hampshire and also parts of Vermont that you get from here.
The ski school does not only offer lessons for kids but also for adults. For example, there is a series of women´s clinics that are specially tailored for the needs of ladies.
If it is you´re a first timer and you need some equipment staff at the rental shop will be happy to help you to get the right things for you.
Interesting facts
Offering 282 acres of slopes and terrain, Cannon Mountain is among the 5 largest Ski Resorts in New Hampshire.
Cannon Mountain is among the 5 best rated Ski Resorts in New Hampshire.
Elevated between 1900 ft and 4078 ft, the Ski Resort is the highest elevated Ski Resorts in New Hampshire. The vertical drop from summit to base is 2178 ft. The average difference in altitude between base and summit of Ski Resorts in the USA is 1204 ft. Most runs are therefore relatively long.
Average snow depth during the season is 40 " at summit elevation and 17 " at base elevation. Snow coverage is usually best during March, offering an average snow depth of 44 " at summit elevation and 19 " at the base. Therefore Cannon Mountain is among the 3 ski Resorts with best snow conditions in New Hampshire.
Cannon Mountain features 47 sunny days on average per season. The average for all ski Resorts in the USA is 56 sunny days. January is the sunniest month with an average of 12 sunny days.
Snow Safety & Snowmaking
Average snow depth of the last years (Summit)
(in ")
Videos
Another Beauty At Cannon - A Great... | 00:30
Powder Day - Up to a FOOT of New Snow!...
The snow just kept coming on January 16, 2020. Find...
Mid-Winter Conditions @ Cannon on the...
The calendar may only say December 1st, but Cannon has...
Cannon Parks Rail Jam - February 15, 2020
Thanks to all competitors who got in on the action and...