The Ski Resort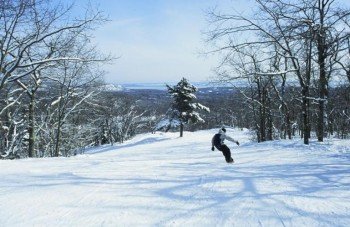 Camden Snow Bowl is where mountain and sea meet. Enjoy the wonderful view of the Atlantic Ocean. It´s very special and it will make your holiday a unique experience! Explore over 36 hectares of trails and slopes that are served by 3 lifts.
Camden Snow Bowl has a ski and snowboard school. You can choose the program that is most compatible with your skills. Experienced staff will be happy to introduce you to the sport they love.
However, winter activities at Camden Snow Bowl are not limited to skiing and snowboarding. It also features a toboggan chute. It will certainly give you a thrill! You can also watch the annual toboggan championships in February.
Moreover, there are some backcountry trails available where you can also go snowshoeing. Hike through the lovely winter landscape and explore what nature has to offer.
Riders may be happy to hear that Camden Snow Bowl has a terrain park with great features. The park team is always eager to improve the park. Children ages 7 to 14 can participate in the Park Rat Program where they will be introduced to everything they need to know about skiing and snowboarding in a terrain park.
Interesting facts
It is among the 3 most family-friendly ski Resorts in Maine.
Average snow depth during the season is 21 " at summit elevation and 15 " at base elevation. Snow coverage is usually best during February, offering an average snow depth of 24 " at summit elevation and 17 " at the base.
Camden Snow Bowl features 12 sunny days on average per season. The average for all ski Resorts in the USA is 10 sunny days. January is the sunniest month with an average of 6 sunny days. This makes the ski resort one of the 5 sunniest in Maine.
Snow Safety & Snowmaking
Average snow depth of the last years (Summit)
(in ")
Travel Deals & Tips
Advertisement