The Ski Resort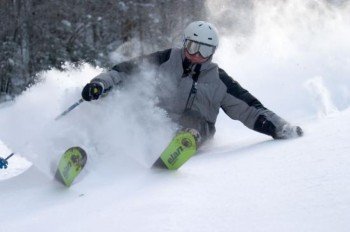 Burke Mountain is located in the heart of Vermont´s Northeast Kingdom. It is a great resort that features 45 great trails and glades. 80% of its 101 hectares are covered by a snowmaking system. This combined with an average annual snowfall of 217 inches caters for reliable snow throughout the whole season. In addition, there are 4 terrain parks where you can practice some tricks.
Burke Mountain is characterized not only by great terrain but also by friendly staff that is always eager to help you. It is home of Burke Mountain Academy, the preeminent ski school in the country. It has 45 Olympians to its credit. Go and get some lessons there and you´ll certainly become a real snow enthusiast, too! There are several programs available for children as well as for adults. Personalize your skiing or snowboarding experience with a one-on-one lesson or learn together with others in groups.
There is also a 30 km Nordic trail system available. Experience nature on trails meandering through the woods and enjoy scenic views.
Interesting facts
The vertical drop from summit to base is 2057 ft. The average difference in altitude between base and summit of Ski Resorts in the USA is 1201 ft. Most runs are therefore relatively long. The ski resort takes you to an elevation of 3268 ft.
The day pass at Burke Mountain is $59 making it one of the 10 cheapest ski Resorts in Vermont.
Average snow depth during the season is 28 " at summit elevation and 14 " at base elevation. Snow coverage is usually best during February, offering an average snow depth of 28 " at summit elevation and 14 " at the base.
Burke Mountain features 40 sunny days on average per season. The average for all ski Resorts in the USA is 50 sunny days. March is the sunniest month with an average of 16 sunny days.
Snow Safety & Snowmaking
Average snow depth of the last years (Summit)
(in ")