The Ski Resort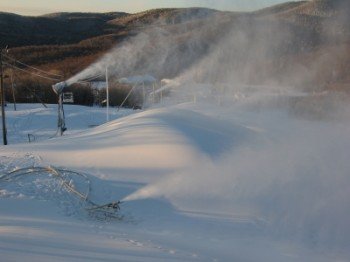 Learn how to ski and ride in a safe and friendly atmosphere with your whole family. Bolton Valley Resort offers packages for all different needs: for children and adults, beginners and more advanced people who want to brush up their skills. In addition there are programs for disabled individuals. Of course, you can rent all the equipment needed. Bolton Valley Resort certainly has a matching program for you to offer.
There is also child care available. Take your kids to the special kids programs or to the childcare center and spend some time on the trails without worrying about the kids. They will certainly enjoy their time there and have lots of fun. Besides the great trails for skiing and snowboarding Bolton Valley offers a 100 km Nordic trail system that doesn´t leave any desires open. Here you can explore the wonderful world of nature in winter.Why not spent a day off the trails? Relax at the Sports Center that includes an indoor pool, hot tub, sauna and much more. Those who are looking for some excitement may approach the Bolton Adventure Centre where a range of adventure activities is offered. Moreover, night skiing will give you an experience that you will never forget.
 
Interesting facts
The vertical drop from summit to base is 1703 ft. The average difference in altitude between base and summit of Ski Resorts in the USA is 1188 ft. Most runs are therefore relatively long. The highest point of the track is 3150 ft above sea level.
Average snow depth during the season is 31 " at summit elevation and 17 " at base elevation. Snow coverage is usually best during March, offering an average snow depth of 34 " at summit elevation and 19 " at the base.
Bolton Valley Resort features 45 sunny days on average per season. The average for all ski Resorts in the USA is 50 sunny days. March is the sunniest month with an average of 21 sunny days.
Snow Safety & Snowmaking
Snow Making Machines:
100
Average snow depth of the last years (Summit)
(in ")