The Ski Resort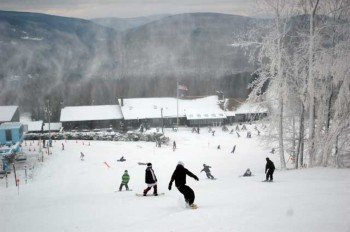 Belleayre Mountain is located in Highmount only hours away from New York. It offers winter fun for skiers and snowboarders alike. Existing since 1949 it has improved continually over the years. Today, it offers 47 trails and a Terrain Park where you can practice your tricks. Enjoy days of pleasure at Belleayre Mountain with your family and friends.
Beginners can attend classes at at the local ski school where qualified staff will help them to become skilled skiers and snowboarders. There is also a special kids camp for children which includes lessons, ski rentals and lunch. Of course, there are also adult workshops available and even adaptive lessons for individuals with any kind of disability.
Interesting facts
Offering 171 acres of slopes and terrain, Belleayre Mountain is among the 10 largest Ski Resorts in New York.
Belleayre Mountain is among the 10 best rated Ski Resorts in New York.
Elevated between 2024 ft and 3428 ft, the Ski Resort is among the 5 highest elevated Ski Resorts in New York. The vertical drop from summit to base is 1404 ft. The average difference in altitude between base and summit of Ski Resorts in the USA is 1204 ft.
During the season the average snow depth at Belleayre Mountain is 13 ". Snow coverage is usually best during February, offering an average base depth of 15 ". Therefore Belleayre Mountain is among the 3 ski Resorts with best snow conditions in New York.
Belleayre Mountain features 53 sunny days on average per season. The average for all ski Resorts in the USA is 52 sunny days. February is the sunniest month with an average of 12 sunny days. This makes the ski resort one of the 10 sunniest in New York.
Snow Safety & Snowmaking
Travel Deals & Tips
Advertisement