Interesting facts
Season starts on Dec 16 and ends on Mar 13 (87 days). Average season duration in the USA is 117 days.
Average snow depth during the season (Dec 16 to Mar 13) is 31 " at summit elevation and 15 " at base elevation. Snow coverage is usually best during February, offering an average snow depth of 40 " at summit elevation and 19 " at the base.
The Ski Resort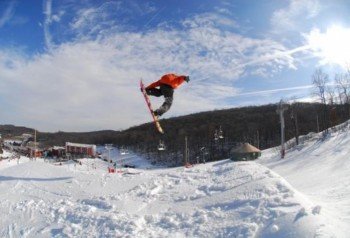 Bear Creek Mountain Resort is located in Berks County, Pennsylvania. It opened as Doe Mountain Area in 1968 as a rather small ski resort. However, it expanded overtime and now features 21 trails. Bear Creek is also a conference center. Combine business and some fun in the snow! After an exhausting day you may relax in the spa and get some treatment for body and spirit.
Besides skiing and snowboarding you can go snow tubing at Bear Creek Mountain. With over 300 metres the snow tubing park is the largest in the region.
There are also 3 Terrain Parks available that offer more than 30 custom features to please skiers and snowboarders of all ability levels.
Snow Safety & Snowmaking
Average snow depth of the last years (Summit)
(in ")