Interesting facts
The vertical drop from summit to base is 394 ft. The average difference in altitude between base and summit of Ski Resorts in Austria is 2356 ft. Runs and slopes are therefore relatively short. The highest point of the track is 2822 ft above sea level.
Season starts on Dec 14 and ends on Mar 10 (86 days). Average season duration in Austria is 176 days.
Average snow depth during the season (Dec 14 to Mar 10) is 14 " at summit elevation and 8 " at base elevation. Snow coverage is usually best during February, offering an average snow depth of 17 " at summit elevation and 11 " at the base. Therefore Arralifte Harmanschlag is among the 10 ski Resorts with best snow conditions in Lower Austria.
Arralifte Harmanschlag features 34 sunny days on average per season. The average for all ski Resorts in Austria is 40 sunny days. January is the sunniest month with an average of 17 sunny days. This makes the ski resort one of the 10 sunniest in Lower Austria.
The Ski Resort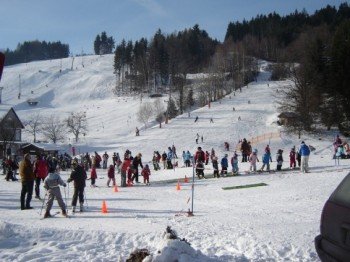 In the northwestern Waldviertel (Lower Austria) not far from the border to the Czech Republic are the town of Harmanschlag and the popular Arralifte located. For winter sports enthusiasts there are 2 t-bar lifts, 5 downhill runs, 2 floodlight systems and daily groomed slopes available.
The panorama lift takes guests up to 860 metres above sea level. There you can enjoy the view of the idyllic landscape during a ride with the romantic lift.
In the valley area, the area around the Fantasticlift is suitable for making your first attempts on the boards or for a bit of practice. In addition, there are enough ski and snowboard courses available for beginners in Harmanschlag.
Snow Safety & Snowmaking
Snowphone
+43 (0)6645233485
Average snow depth of the last years (Summit)
(in ")
Video
Schifahren und Snowboarden Arralifte... | 00:15
Getting here
By car:
Coming from Vienna you can reach the Arralifte in about 2 hours via the A1 Westautobahn. In St. Pölten change to the S33 and drive to Krems an der Donau, where you then follow the B37 to Zwettl. Afterwards it goes on the L71 and Weitraer road up to Weitra. Once there, take the B41 to Roßbruck and then the L8293 to Harmanschlag.