The Ski Resort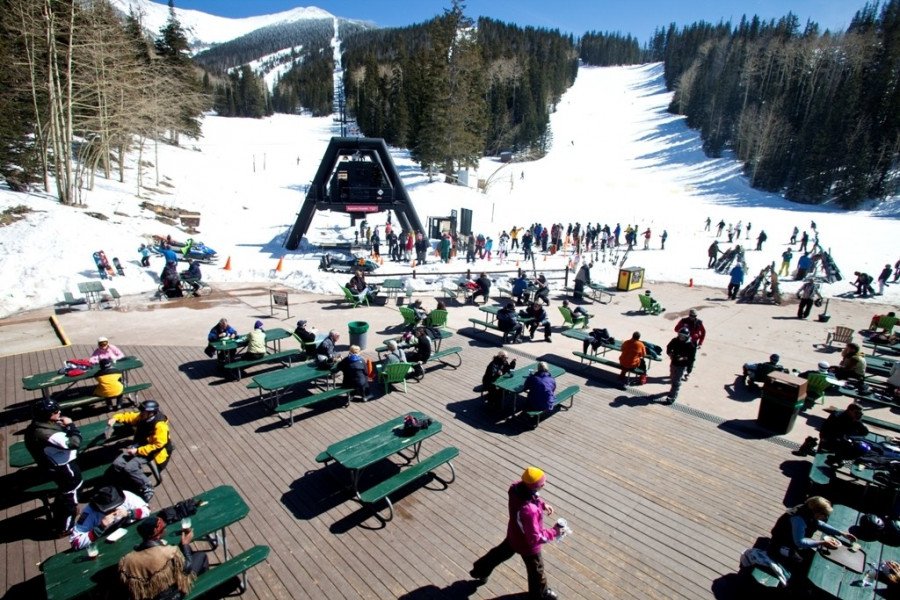 Opening in 1938 Arizona Snowbowl is one of the oldest ski resorts in the whole U.S. It is located in the stunning San Francisco Peaks about 2 hours away from Phoenix, 40 minutes from Sedona and only one hour from the Grand Canyon.
The ski area offers 40+ trails, 777 skiable acres, 6 lifts, open bowl and tree skiing . The state-of-the-art snowmaking system guarantees 120+ days of skiing from early December through early April.
Beginners are advised to take lessons at the local ski school with our qualified and experienced staff. The Ski & Ride school is registered with the Professional Ski Instructors of America and the American Association of Snowboard instructors. Rental Shop features the top of the line skiing and boarding equipment. Arizona's best terrain park offers many jumps, and other features of various difficulty.
Interesting facts
Offering 776 acres of slopes and terrain, Arizona Snowbowl is the largest ski resort Arizona.
Arizona Snowbowl is the the best rated ski resort Arizona.
It is known to be the most family-friendly ski resort Arizona.
Elevated between 9199 ft and 11499 ft, the Ski Resort is the highest elevated Ski Resorts Arizona. The vertical drop from summit to base is 2300 ft. The average difference in altitude between base and summit of Ski Resorts in the USA is 1204 ft. Most runs are therefore relatively long.
Average snow depth during the season is 31 " at summit elevation and 39 " at base elevation. Snow coverage is usually best during March, offering an average snow depth of 43 " at summit elevation and 56 " at the base. This makes Arizona Snowbowl the ski resort with the best snow conditions Arizona.
Arizona Snowbowl features 110 sunny days on average per season. The average for all ski Resorts in the USA is 64 sunny days. April is the sunniest month with an average of 28 sunny days. This makes the ski resort one of the 5 sunniest in the USA.
Snow Safety & Snowmaking
Average snow depth of the last years (Summit)
(in ")
Travel Deals & Tips
Advertisement