Interesting facts
Ankogel Mallnitz is among the 5 best rated Ski Resorts in Carinthia.
Elevated between 3937 ft and 8652 ft, the Ski Resort is among the 3 highest elevated Ski Resorts in Carinthia. The vertical drop from summit to base is 4715 ft. The average difference in altitude between base and summit of Ski Resorts in Austria is 2388 ft. Most runs are therefore relatively long.
Season starts on Dec 22 and ends on Mar 31 (99 days). Average season duration in Austria is 111 days.
Average snow depth during the season (Dec 22 to Mar 31) is 59 " at summit elevation and 19 " at base elevation. Snow coverage is usually best during February, offering an average snow depth of 66 " at summit elevation and 23 " at the base. Therefore Ankogel Mallnitz is among the 10 ski Resorts with best snow conditions in Carinthia.
Ankogel Mallnitz features 41 sunny days on average per season. The average for all ski Resorts in Austria is 45 sunny days. February is the sunniest month with an average of 19 sunny days.
The Ski Resort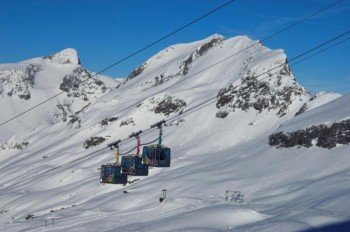 Ankogel Bahnen Mallnitz is located in the heart of the Austrian Alps. A familiar ski region with pists above the tree line, every degree of difficulty and a lot of sun on sunny days.
Snow Safety & Snowmaking
Snowphone
0043 4785 8110 56
Average snow depth of the last years (Summit)
(in ")
Videos
Ankogel Mallnitz 2016 | 08:08
RKM LokalTV - Ankogel Skigebiet Mallnitz...
user
Ankogel Mallnitz and Mölltaler Gletscher...
Skiing holiday in Austrian Alps. We stayed in a beautiful...
Ankogel/Mallnitz
Tiefschnee
Getting here
You can easily come by car to Mallnitz. Additional you can choose the train to the EC/IC trainstation Mallnitz-Obervellach which has direct connections to Salzburg, Klagenfurt and Vienna and also some cities in Germany. If you will choose the plane you can arrive via Klagenfurt or Salzburg. From both airports are shuttles offered.