Interesting facts
It is known to be the most family-friendly ski resort in Wisconsin.
Season starts on Nov 13 and ends on Mar 23 (130 days). Average season duration in the USA is 118 days.
During the season (from Nov 13 till Mar 23) the average snow depth at Alpine Valley Resort WI is 22 ". Snow coverage is usually best during January, offering an average base depth of 22 ". Therefore Alpine Valley Resort WI is among the 3 ski Resorts with best snow conditions in Wisconsin.
Alpine Valley Resort WI features 65 sunny days on average per season. The average for all ski Resorts in the USA is 55 sunny days. December is the sunniest month with an average of 19 sunny days.
The Ski Resort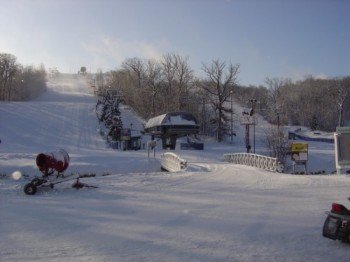 With its 36,5 hectares of trails Alpine Valley is one of the largest resorts in southeastern Wisconsin. Families will enjoy this resort as it provides good trails for kids and beginners. For example, Alpine Valley offers four magic carpets. At the local ski school you can choose between private, semi-private and group lessons. So everyone can learn the way they like. Moreover, there are special kids and students programs. Children from 5 to 10 can also join the Mountaineer Club which is a three week program in which they will learn everything they need to know for a joyful, fun and safe holiday on the hills.
Alpine Valley has multiple special offers for visitors. See and try the ski or the snowboard package or check the special ski season packages that include lodging and skiing.