The Ski Resort
At alp Bürgeralpe Mariazell in Styria, a total of 11 kilometres of pistes await winter sports enthusiasts. Every level of difficulty is represented and so everyone will find the right slope.
Thanks to its favourable geographical location, alp Bürgeralpe Mariazell always offers excellent slope conditions. The Styrian seal of slope quality confirms this! Thanks to the latest snow-making technology, it is also possible to help out and enjoy the fun on the slopes until spring.
You can stop off at restaurants Berggasthof, Edelweißhütte and Bartelbauerhütte.
Interesting facts
The vertical drop from summit to base is 1309 ft. The average difference in altitude between base and summit of Ski Resorts in Austria is 2362 ft. Runs and slopes are therefore relatively short. The ski resort takes you to an elevation of 4157 ft.
Average snow depth during the season is 24 " at summit elevation and 13 " at base elevation. Snow coverage is usually best during February, offering an average snow depth of 30 " at summit elevation and 17 " at the base.
Alp Bürgeralpe Mariazell features 30 sunny days on average per season. The average for all ski Resorts in Austria is 34 sunny days. February is the sunniest month with an average of 10 sunny days.
Snow Safety & Snowmaking
The geographical location of Mariazell usually provides alp Bürgeralpe with an unusually large amount of snow for this altitude. If necessary, the snow-making equipment can be used to help.
Snowphone
+43 (0)3882 2555 12
Average snow depth of the last years (Summit)
(in ")
Travel Deals & Tips
Advertisement
On Mountain Dining
Restaurants Berggasthof and Edelweißhütte invite you to take a break on the mountain. Here you will be spoiled with local delicacies.
Must-Ski Runs
Fun in the snow for the whole family is the winter - motto of alp Bürgeralpe. You can choose from 8 slopes with a length of 11 km and every level of difficulty and a 1.7 km long sledging track. From experts to beginners - the pistes offer the best conditions for everyone - tested and awarded with the Styrian Piste Quality Seal. A lot was invested in modern piste equipment and high-performance snow-making systems to ensure optimum piste conditions.
Nightskiing
From January, alp Bürgeralpe becomes a touring ski paradise every Friday, because on this day selected slopes are opened and released for touring ski fans until 9 p.m.. In order to enjoy the successful ascent, a mountain hut is also open.
Après-Ski and Nightlife

For a good atmosphere at Aprés Ski, Bartelbauerhütte at the valley station in St. Sebastian is a good place to be. Right next to the valley station of the chairlift, snacks are also offered here.
Number of Bars and Pubs:
5
Dining and Restaurants
Number of Restaurants:
22
Infrastructure & Rental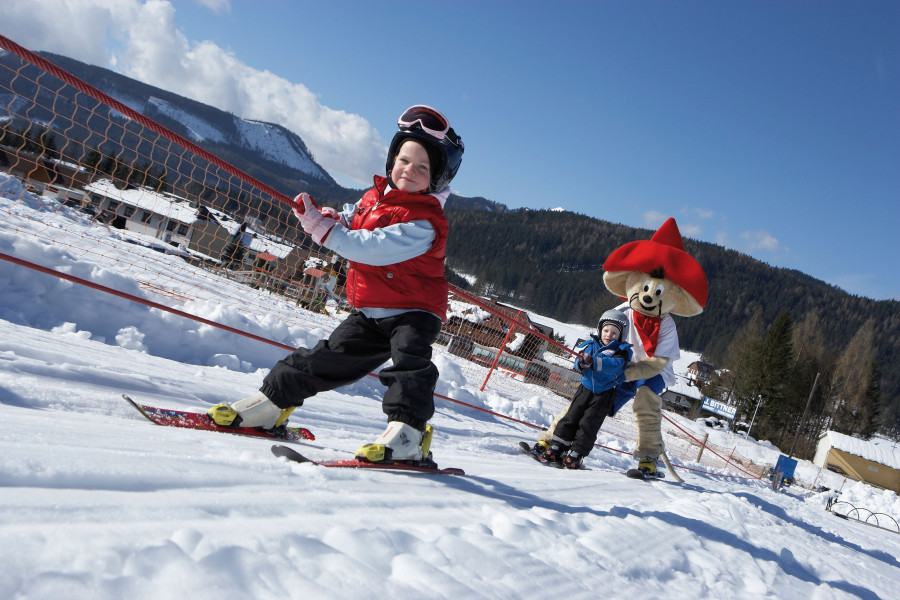 Amigos Snowsports
A children's area with a 50 m long conveyor belt (magic carpet) and rope lift! Whether ski or snowboard lessons, rental equipment or service, special offers for team development or safety - you've come to the right place! And in the shop you will find all accessories for winter sports.
Telephone: 43 (0)676/926 28 60 or 43 (0)676/690 77 96
www.amigos-snowsports.at
RUDY`SHCOOL
With the experience of 40 years of skiing and 20 years of snowboarding lessons as well as the well-trained team, the joy and fun of moving on one or two boards is not neglected! If there is sufficient interest, the little ones have the possibility of full-day care.
Telephone: 43 (0)664/860 22 00 or 43 (0)664/574 08 93
www.rudyshcool.at
Skischools
Number of Snowboard Schools:
2
Getting here
Mariazell is located in the Lower Austrian-Styrian Pre-Alps. You can reach the region by car in various ways. The journey to Mariazell by car is particularly scenic, because the main roads are very well developed and still lead through almost untouched nature.
from Vienna:
1. Route:
Motorway A1 to exit St. Pölten Süd. From there the B20 will take you to Mariazell. The route is very well signposted. You have the option of either driving the route via Annaberg and Josefsberg or turning off the B20 to the B21 in the open and then via St. Aegyd and through the Halltal valley to Mariazell. Particularly in winter, you should pay attention to possible radio announcements as to which route is better to travel on.
2. Route:
You drive on the Südautobahn A2 to the Seebenstein junction and take the exit in the direction of Bruck/Mur, Neukirchen S6. Take the S6 to the Mürzzuschlag West exit. In Neuberg an der Mürz you can choose either the route via Niederalpl or via Lahnsattel, there is no difference in time.
from Salzburg:
Drive on the Westautobahn A1 to the Ybbs exit on the B25 towards Wieselburg. Follow the B25 and turn left at the Grubberg onto the Zellerain-Bundesstraße B71. Follow the road until you reach Mariazell. This route is well signposted.
from Graz:
Road onto the A9 Phyrnautobahn. At the Peggau-Deutschfeistritz exit, take the S35 towards Bruck/Mur. In Bruck/Mur, take the Wien/Mariazell/Kapfenberg slip road onto the S6. Leave the expressway at St. Marein and follow the main road to St. Marein. In St. Marein follow the signs to Mariazell and turn left. This route takes you via Pogusch, Turnau and Seeberg to Mariazell.