The Ski Resort
Crystal-clear mountain air, crunchy snow, sunshine from morning till evening and a clear view of the most beautiful 4,000-meter (13,000-foot) peaks of Valais – welcome to Riederalp, Bettmeralp and Fiesch-Eggishorn. Welcome to the Aletsch Arena.
The trip by aerial cable car takes between seven and ten minutes from the easily accessible valley communities of Mörel, Betten Talstation or Fiesch to the car-free health resorts situated on the Aletsch Glacier in the heart of the Swiss Alps' Jungfrau-Aletsch UNESCO World Heritage Site. Everyday cares, stress, hustle and bustle remain behind in the valley. Now it's time for tranquility, relaxation, fun, pleasure and physical activity.
Here, on the sunny plateau located high above the Rhone Valley between 1,845 and 2,869 meters (6,053-9,412 feet) above sea level, you'll find that true winter still exists. From December to April, snow sports enthusiasts can indulge their passion to their hearts' content; snow is guaranteed. Riederalp, Bettmeralp and Fiescheralp are linked by 104 kilometers (75 miles) of exquisitely groomed pistes, including beginners' slopes, snow parks, half-pipes and free-ride pistes as well. And the best part is: carrying your skis is a no-no. In the Aletsch Arena, you step out of your front door straight onto the ski slopes.
But winter walkers and hikers will also enjoy their stay here. Seventy-five kilometers (46.6 miles) of groomed winter hiking trails are available on the family-friendly Aletsch plateau. On the 3-kilometer (1.9 mile) snowshoe trail between Bettmeralp and Riederalp, you can enjoy the pristine winter scenery with particular intensity: cross-country skiers leave their tracks around the lake known as Bettmersee or on the ski run at the Riederalp golf course. Ice skaters make their rounds on the natural ice rink in Bettmeralp. And if you need yet another adrenalin rush, try the 13-kilometer (8-mile) sledding run from Fiescheralp down to Lax in the valley.
In the Aletsch Arena, there is something for everyone who loves winter. Moreover, there are suitable accommodations for every budget, from four-star hotels to simple vacation apartments.
Interesting facts
Offering 65 miles of slopes and terrain, Aletsch Arena is among the 10 largest Ski Resorts in the Valais.
Aletsch Arena is among the 10 best rated Ski Resorts in the Valais.
The vertical drop from summit to base is 6923 ft. The average difference in altitude between base and summit of Ski Resorts in Switzerland is 2877 ft. Most runs are therefore relatively long. The high point of the ski resort is located at an elevation of 9413 ft.
Average snow depth during the season is 60 " at summit elevation and 37 " at base elevation. Snow coverage is usually best during March, offering an average snow depth of 71 " at summit elevation and 44 " at the base. Therefore Aletsch Arena is among the 15 ski Resorts with best snow conditions in Switzerland.
Aletsch Arena features 74 sunny days on average per season. The average for all ski Resorts in Switzerland is 69 sunny days. March is the sunniest month with an average of 20 sunny days.
Snow Safety & Snowmaking
Snow Making Machines: 258
Snowphone+41 (0)27 928 41 41
Average snow depth of the last years (Summit)
(in ")
On Mountain Dining
The mountain restaurant Bettmerhorn spoils their guests with culinary delights. With its sun deck at a height of 2647 meters (8684 feet) it offers a unique view of the Aletsch glacier.Situated right between Rideralp and Bettmeralp is the mountain restaurant Chüestall. The Kuhstall, built in 1962, was renovated and became a comfy mid-mountain hut. The deck chairs are real inviting for some relaxed hours in the sun.Tempting for a break is the market restaurant Kühlboden as well. Try the fresh and seasonal salad buffet, the soup station and the diversified menu with different kind of hash browns. They also give hungry winter athletes a choice between vegetarian and Swiss specialties. And if you still have room in your tummy, definitely taste the amazing dessert buffet that includes homemade apple strudel. Reserve a table for the fancy three-course menu at night time.
Must-Ski Runs
Enjoy skiing and snowboarding like you never have before! On 104 km of great pistes in the Aletsch Arena, discover the dream slopes between Riederalp, Bettmeralp and Fiesch-Eggishorn. At between 1845 and 2869 m, the resort has ideal skiing conditions from December to April.Come and ski to your heart's content no matter what your level under the sunny skies high above the Rhône Valley. Snowboarders and freeriders can let themselves go in the snow parks, halfpipes and along the freeride trails.And there's more: the most liberating nature experience of the Alps is also the most liberating winters sports experience that a skier or snowboarder could imagine. Ski-in, ski-out are magic words to a skier – and magic that is possible almost everywhere in the Aletsch Arena. Most holiday accommodation on this sunny car-free plateau is right at the pistes.The longest run in the resort is the 4,6 kilometer (2,8 miles) long Aletsch run. The run Eggishorn also guarantees fun for every skier. It offers an unique view of the Aletsch glacier.Athletic skiers should hit the black marked, really challenging tunnel trail with amazing panorama. Additionally, the panorama trail in Fischeralp features a speed measurement and a public race slope with time measurement at the chair Riederfurka and Wurzenbord.
Most Difficult Runs
Abfahrt Wilerriebi
Length: 0.9 miles
Vertical Drop: 1384.5 ft
Longest Runs
Aletschpiste
Length: 2.9 miles
Vertical Drop: 2368.8 ft
Video
Aletsch Arena Winter | 03:35
Activities
Away from the skiing trails 70 kilometers (43,4 miles) of winter hiking trails are located on the Aletsch plateau. Additionally experience the untouched winter landscape on the three kilometer (1,8 miles) long snowshoe hiking trail that is situated between Pettmeralp and Riederalp. Ice-skater can turn their pirouettes on the natural ice rink Bettmeralp. And If you´re looking for some more action, head to the fast-paced, 13 kilometer (8 miles) long toboggan run that starts from the Fiescheralp and brings you right back to Lax.A once-in-a-lifetime activity is a tour on the great Aletsch glacier. After all, with its length of 23 kilometers (14 miles) it´s the longest ice stream in the Alps. Further it has a surface with the size of 8600 ha and a thickness of up to 900 meters (2952 feet). The area around the great Aletsch glacier and the Jungfrau is even part of the Alp´s UNESCO world heritage.
Après-Ski and Nightlife
Have you partied today? Then it's high time. A party, the atmosphere & a good mood are infectious and, in the Aletsch Arena, are often popular in the afternoon: with après ski in one of the cosy huts or cool bars, for example. The party goers are still not tired in the evenings. They continue to party in the clubs, bars and lounges.
Albi´s Mountain Rock Café or Dancing Alpfrieden at Bettmeralp are pumping by 3 pm. Enjoy the Apres-ski feeling par excellence surrounded by nice people.If you prefer to end your ski day in a more relaxed way, check out the Alpenlogde Bar at Fischeralp. Here´s never a shortage of background or live music. Even your stomach doesn´t come up short: XL Burger, ´flaming cake´ and raclette await all foodies. It´s also a great place to come for mixed drinks and cocktails.
Dining and Restaurants
Good food and drink is as much a part of a holiday as the sunshine – and makes you as happy! Seen in this way, the culinary offering in the Aletsch Arena is a wonderfully varied mood-lifter.
Whether Valais specialities, exquisite delicacies or a culinary journey to the home of pizza and pasta: the gastronomic offering in the resorts of Riederalp, Bettmeralp and Fiesch-Eggishorn leaves nothing to be desired with its restaurants, bars and cafés. Eat and drink whatever you fancy!
Infrastructure & Rental
Skischools
Skischools: 5
Snowboardschools: 5
Cross Country Lessons
Carving Lessons
Ski Rental
Ski Rental
Snowboard Rental
Cross Country Ski Rental
Backcountry Ski Rental
Telemark Rental
Affiliate Shops
Ski Rentals Aletsch Arena (6)
Getting here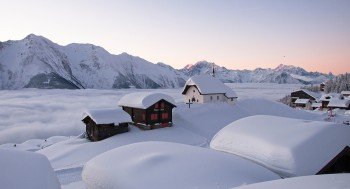 Riederalp, Bettmeralp and Fiesch-Eggishorn, the three holiday destinations at the heart of the Aletsch Arena, in the Canton of Valais. You can access the Aletsch Arena safely and easily by car or by railway at any time of year.
Important: Riederalp, Bettmeralp and Fiescheralp are car-free zones. For the last part of the journey, you take the local cableways from the Mörel, Betten (please enter "Grengiols Guldersand" into your GPS device) or Fiesch base stations. The cableways take 7 to 10 minutes to reach the plateau.
By carTravelling here by car is easy with a good road and pass network and car trains. Large outside and multi-storey car parks are available at the cable car base stations. From the base stations, the local cableways take just 7 to 10 minutes to the resorts of Riederalp, Bettmeralp and Fiescheralp on the car-free plateau. Connections are good.By Public TransportationTravel by Swiss Federal Railways (SBB) and get out in Brig or Göschenen. From here continue with Matterhorn Gotthard Bahn (MGB) to the valley stops Mörelm Betten and Fiesch.