The Cross-Country Area
The Pokljuka plateau in the north-west of Slovenia is around 20 kilometres long and almost as wide. At an altitude of around 1,300 metres above sea level, the plateau offers perfect winter sports conditions from late autumn through to the end of March. The closest large town is Bled, some 25 kilometres away.
Around 30 kilometres of trails interlink the small towns on the Pokljuka plateau – from Rudno polje to Javorniška planina – leading through spruce forests, moorland and expansive mountain pastures. There is also a cross-country ski school and ski hire centres here. A large section of the trail network is also connected to the Triglav sports centre, which hosts the Biathlon World Cup each year.
Biathlon World Cup an annual fixture
The Biathlon World Cup has made a stop in Pokljuka once a year since the early 1990s. The Triglav sports centre is the region's hub in this respect, with shooting galleries for the athletes as well as a hotel and restaurant. The ski centre was given a 10 million euro overhaul in 2009. Given its location in the heart of the Triglav National Park, great emphasis was placed on taking an environmentally friendly approach during the renovation.
The Most Beautiful Tracks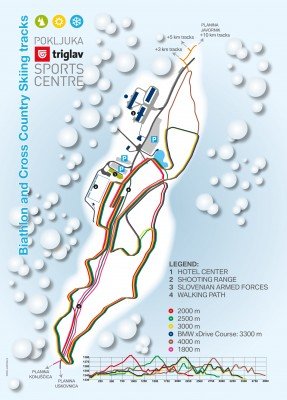 The most comprehensive and demanding trails on the Pokljuka plateau are to be found in the area around the Triglav biathlon sports centre. Here, trails are available measuring some 2000 meters, 2500 meters, 3000 meters, 3300 meters and 4000 meters. A number of pro athletes, including the Slovenian national biathlon team, regularly use the trails for their training.
There are also almost 6 km of trails in Rudno Polje, the town surrounding the sports centre. If snow conditions allow, the trail to Konjšica (6 km each way) as well as the circular route behind the barracks (3 or 5 km, sometimes 10 km) are also groomed. The route towards Planina Javornik (1.5 km one-way) is another good choice, as is the most eye-catching part of the Pokljuka trail network – directly on the high Planina Javornik pasture (circular route of 3 km). If conditions allow it, the routes from Javornik to Kranjska dolina and towards Mrzli studenec and Goreljek are also groomed for cross-country action.
Getting Here
By car: If you're travelling from the north, take the A11 from Villach over the Austrian-Slovenian border and then take the Karawankentunnel. After that, follow the motorway E61 until you reach the Bled exit. Turn off there and continue towards Bled before turning off for Pokljuka at the petrol station. This route passes through Zgornje Gore. It's around 50 kilometres from the Austrian border to Pokljuka.
By aircraft: The airport Ljubljana-Brnik is some 55 kilometres from Pokljuka, while the airport in Klagenfurt is also close by.
Travel Deals & Tips
Advertisement