The Cross-Country Area
The Valmorel ski area has two cross-country ski areas with a total of well over 80 kilometres of trails: Valmorel and Nâves. Valmorel offers 50 kilometres of cross-country trails that can be used free of charge. At Grand Nâves, you have around 40 kilometres at your disposal. The starting point for the circular trails of Nâves is Le Tovet.
The Most Beautiful Tracks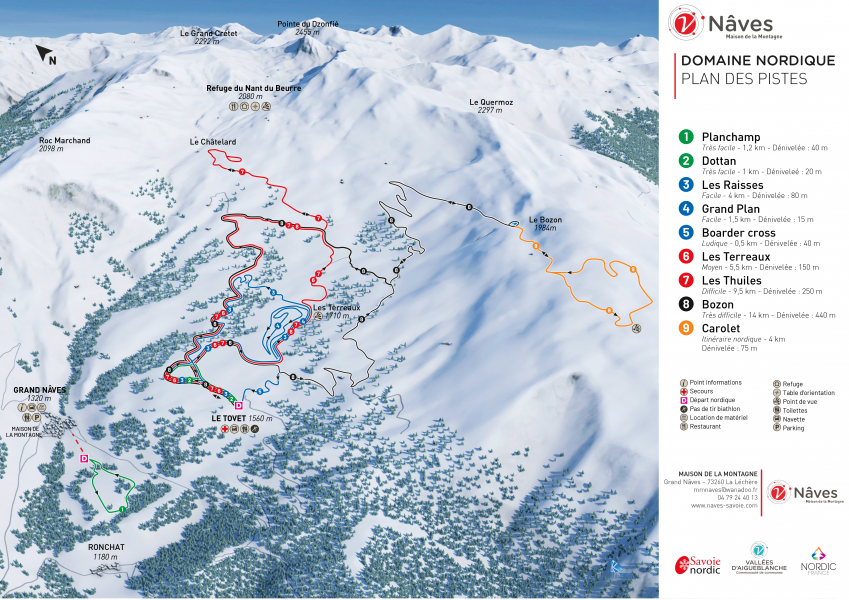 Nâves:
Planchamp: 1.2 km - very easy
Les Raisses: 4 km - easy
Les Thuiles: 9.5 km - difficult
Bozon: 14 km - very difficult
Valmorel:
Grande Forêt: 4 km - very easy
Les Balcons de l'Arenouillaz: 4 km - easy
40 Plânes: 2.8 km - medium
Les Bachais: 5.4 km - difficult
Video
Station de ski de Valmorel : teaser
Getting Here
Valmorel is located just under 90 kilometres east of Chambéry. From there, take the A43/A430 towards Albertville. Then continue on the N90 via Tours-en-Savoie to Aigueblanche, where you either turn onto the D95, which leads to Valmorel, or take the D93 to Nâves.
Travel Deals & Tips
Advertisement