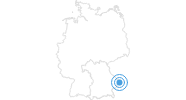 Webcams Lackenhäuser
Webcam Information
6 webcams are in this Ski Resort's vicinity. The webcams fall into three groups, namely 2 live streaming webcams, 2 panoramic webcams und 2 further webcams.
The highest webcam (Middle station Reischlbergbahn) is situated 1049 metres above sea level, wheras the lowest webcam (Neureichenau, Bavarian Forest) is situated 656 metres above sea level.
Most popular webcam in the Ski Resort Lackenhäuser's vicinity: Base station Hochficht.
Travel Deals & Tips
Advertisement