The Ski Resort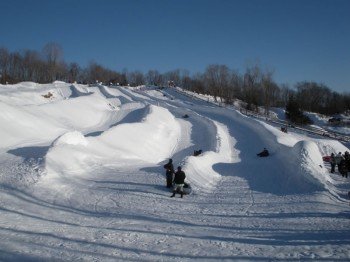 Woodbury Ski Area is located in the Southern Litchfield Hills of Conncecticut and offers all fun winter activities: skiing, snowboarding, snowtubing and cross-country skiing. It is one of the closest ski areas to New York and boasts one of the biggest snowtubing parks! There are 20 hectares of skiable terrain with trails for all skill levels making skiing and snowbarding at Woodbury fun for everyone. The ski area was one of the first that did allow snowboarding. Thus, it is a great place for snowboarders. You will find plenty of rails and jumps that will give you a challenge. Woodbury´s snowtubing park is the largest in New England. It offers nothing less than 12 lanes serviced by 4 lifts! Just grab your tube and the fun can begin! And the best about it: Woodbury´s entire area is lighted at night so the fun can be extended into the night.
Interesting facts
Snow coverage is usually best during September, offering an average base depth of 4 ".
Woodbury Ski Area features 26 sunny days on average per season. The average for all ski Resorts in the USA is 23 sunny days. February is the sunniest month with an average of 14 sunny days.