The Ski Resort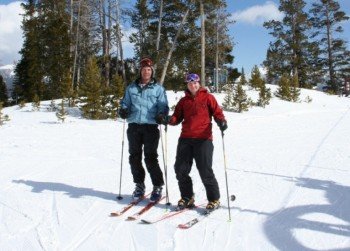 Leave crowded ski areas and long lift lines behind and visit Maverick Mountain Ski Area where everything is still about skiing and not business. The area is located in the southwest mountains of Montana. It offers exciting skiing for everyone. Explore 24 trails and enjoy an exceptional scenery. Skiing is a sport for the whole family that doesn´t leave anyone behind. At Maverick there is a special focus on the little ones. Staff at the Snow Sports School will do their best to endow your child with everything it needs to become a confident skier. Yet, having fun is the first and foremost aim! There is a special beginner area set apart from the rest of the area so beginners can practice undisturbed. Of course, there are also programs for adults. The Snow Sports School is open to everyone no matter of which ability level.
A day on the slopes will certainly quicken your appetite. Visit the Cafeteria or the Thunder Bar and get some delicious foods and something to drink at affordable prices.
 
Interesting facts
Elevated between 6499 ft and 8520 ft, the Ski Resort is among the 5 highest elevated Ski Resorts in Montana. The vertical drop from summit to base is 2021 ft. The average difference in altitude between base and summit of Ski Resorts in the USA is 1188 ft. Most runs are therefore relatively long.
Season starts on Dec 23 and ends on Mar 24 (91 days). Average season duration in the USA is 116 days.
Snow coverage is usually best during September, offering an average snow depth of 50 " at summit elevation and 30 " at the base. Therefore Maverick Mountain Ski Area is among the 5 ski Resorts with best snow conditions in Montana.
Snow Safety & Snowmaking
Average snow depth of the last years (Summit)
(in ")