The Ski Resort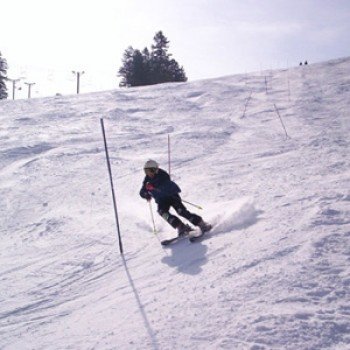 Kelly Canyon Ski Resort is located in a beautiful valley in the Targhee National Forest. It offers almost 260 hectares of skiable terrain. Discover 26 runs designed for different levels of ability. The majority of the trails are intermediate and beginner runs. However, also as a more advanced skier or rider you will find challenging runs that´ll suit your ability level. At Kelly Canyon the fun doesn´t end with sunset. Night skiing is available on all major runs so you can extend your day on the slopes! The Ski School offers a variety of different programs for children. For example, there is the Kelly Kids Program for children ages 4 to 7, which is open for beginners and advanced children, or the Canyon Riders Program for children ages 8 to 14, which is designed to endow children with the proper techniques to become confident riders. Furthermore, kids have the opportunity to join the Kelly Canyon Ski Team. Here they will learn everything in a team and will be introduced to different skiing styles such as mogul skiing and powder skiing. However, there are also lessons for adults available.
Interesting facts
The vertical drop from summit to base is 1001 ft. The average difference in altitude between base and summit of Ski Resorts in the USA is 1204 ft. The ski resort takes you to an elevation of 6601 ft.
The day pass at Kelly Canyon Ski Area is $36 making it one of the 3 cheapest ski Resorts in Idaho.
Average snow depth during the season is 48 " at summit elevation and 31 " at base elevation. Snow coverage is usually best during February, offering an average snow depth of 51 " at summit elevation and 33 " at the base.
Kelly Canyon Ski Area features 37 sunny days on average per season. The average for all ski Resorts in the USA is 38 sunny days. January is the sunniest month with an average of 14 sunny days. This makes the ski resort one of the 5 sunniest in Idaho.
Snow Safety & Snowmaking
Average snow depth of the last years (Summit)
(in ")