Interesting facts
The vertical drop from summit to base is 2484 ft. The average difference in altitude between base and summit of Ski Resorts in Austria is 2392 ft. The highest point of the track is 5289 ft above sea level.
Season starts on Dec 21 and ends on Mar 31 (100 days). Average season duration in Austria is 111 days.
Average snow depth during the season (Dec 21 to Mar 31) is 53 " at summit elevation and 33 " at base elevation. Snow coverage is usually best during February, offering an average snow depth of 60 " at summit elevation and 39 " at the base.
Eben Ski amade features 43 sunny days on average per season. The average for all ski Resorts in Austria is 45 sunny days. February is the sunniest month with an average of 19 sunny days. This makes the ski resort one of the 10 sunniest in Salzburg.
News
Video track and new rails in the funpark
Photo point at mountain station Popolo II
Enlargement of the adventure ski run with new talking characters
The Ski Resort
Eben is situated in Pongau, Salzburg Land and is part of the huge ski network Ski amadè, that counts impressive 25 ski resorts as members like the famous ski resorts Flachau, Wagrain or Großarltal.
Monte Popolo is THE attraction of the resort and is an adventure mountain for the whole family. The new lifts give you an easy and comfortable access to the mountain. There are more than enough descends runs in form of blues and there´s only one red trail, the Moosalm run. That´s why families always have a blast in this resort. Access the kids park by getting out at the platter lift on the upper half of Monte Popolo. Speaking animals make the learning experience for kids so much more exciting! In case you feel a little chilly, look for the small house where you can warm up at any time.

For advanced skiers and snowboarder is the Andre Fischbacher time measurement slope a fun activity. Here you can prove your skills and you can compete against others. Freestyler won´t be bored at Monte Popolo. The fun park boasts features for easier to medium levels.
Snow Safety & Snowmaking
Snowphone+43 (0)6457 2800
Average snow depth of the last years (Summit)
(in ")
On Mountain Dining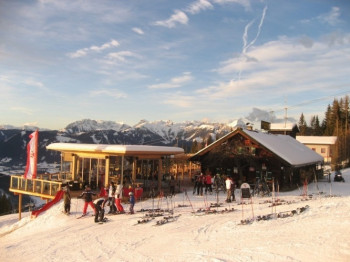 Reitlehenalm and Moosalm are beckoning you in for a hearty break. When you get out at the middle station you´ll see Reitlehenalm that offers really good food. The name of the panorama bar speaks for itself by featuring an amazing view of the surrounding mountain world. You can even rent the place: Up to 20 persons will find a seat here.

Moosalm looks back on a 400 year old history. The rustic mid-mountain hut with the generous sun deck is definitely worth a visit. The cook Berta spoils her guests with all kind of delicious treats.
Videos
Das Familienskigebiet monte popolo in... | 00:31
HELIKOPTERFLUG über monte popolo EbenHeliflug über das Familienskigebiet Eben / monte popolo
Activities
There´s so much activity going on beyond snowboarding and skiing. You can choose between different toboggan runs, you´ll find some in Altenmarkt or Flachau. Right in Eben is the 4 kilometer long toboggan run, that starts at Reitlehenalm. A nice change is a horse sleigh ride to the Hofalmen in Filzmoos. This way you can really calm down and recharge your batteries whilst enjoying the snowy winter landscape.
You want relaxation and action at the same time? Find both in the Therme amadè. Eleven different swimming pools are going to please everyone. The 35 degrees Celsius (95 degrees Fahrenheit) warm crystal pool is great for relaxation while the looping slides that include 8 meters (26 feet) of free fall in an other pool guarantee action-filled fun.
Après-Ski and Nightlife
Right at the base station monte popolo is the Apres-ski bar Pistenfex at Landgasthof Ortnergut. Further, you can get the party started at the Reitlehenalm umbrella bar.
Infrastructure & Rental
Skischools
Skischools: 1
Snowboardschools: 1
Cross Country Lessons
Carving Lessons
Ski Rental
Ski Rental
Snowboard Rental
Cross Country Ski Rental
Backcountry Ski Rental
Telemark Rental
Affiliate Shops
Ski Rentals Eben Ski amade (6)
Getting here
By car
It´s fairly easy to get to Eben in Pongau because it´s right at the Tauern freeway (A10). Leave the freeway at exit Eben and follow signage to Eben that you´ll reach after a short amount of driving time.

By train
You can take a train directly into Eben by passing Salzburg and Bischofshofen.

By plane
The next airport is Salzburg and about 70 kilometers (43 miles) away. From here you can take the shuttle into the ski resort. You actually have to book the shuttle in advance.